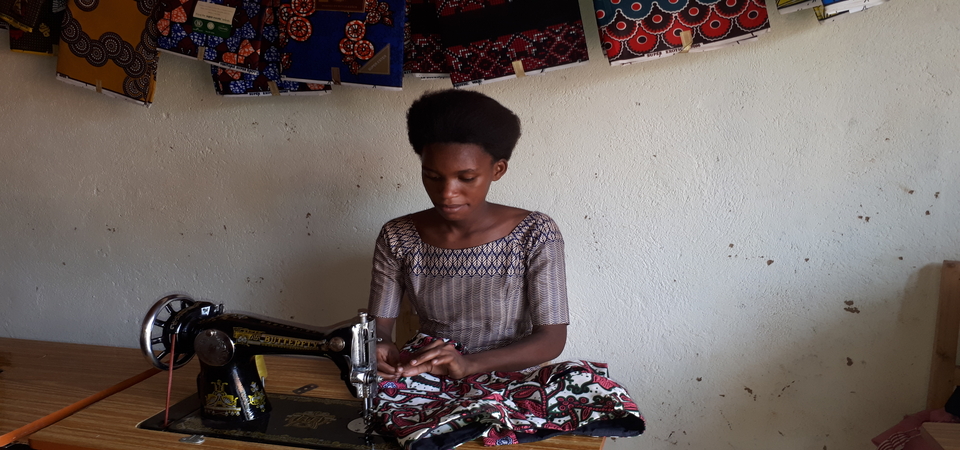 SRHR Module in the DREAMs program is a Life Saver
SHIMWA Germaine is a 19 year old young woman who joined the USAID ACHIEVE DREAMS project in 2020. She stays in Kicukiro district Kicukiro sector in Ngoma cell. She is the 1st child in a family of 3 children. She was motivated to join the USAID ACHIEVE project partly because of her experience while she was growing up. As a teenage girl, she had never got the chance to learn about sexual reproductive health. It was partly because of this that she engaged in risky behaviour and got pregnant when she was studying in S.3. She did not realize that she was pregnant not until the eighth month of pregnancy when she got very sick.
"I got my first period in S.3 in 2019 but when I didn't get it again in the following months, I imagined that it was something normal. One day as we were playing football, I got very dizzy and when I was rushed to hospital, it was the doctor who told me that I was pregnant. The news came as a shock to me and my family. I wasn't prepared to become a parent. I was a student who was supposed to be focusing on my studies."
Germaine could not continue with her studies and had to drop out of school. Life became very hard for her. Her family and community were not pleased that she was pregnant and had also dropped out of school.
"I felt guilty that I had made the wrong choices in life. I also partly blamed my family that they had not guided me adequately by giving me information on sexual reproductive health. No one would talk about sex, body changes, pregnancy. It was almost like a taboo. Looking back, I feel that if I had been given adequate information, I would not have made the choices that I made."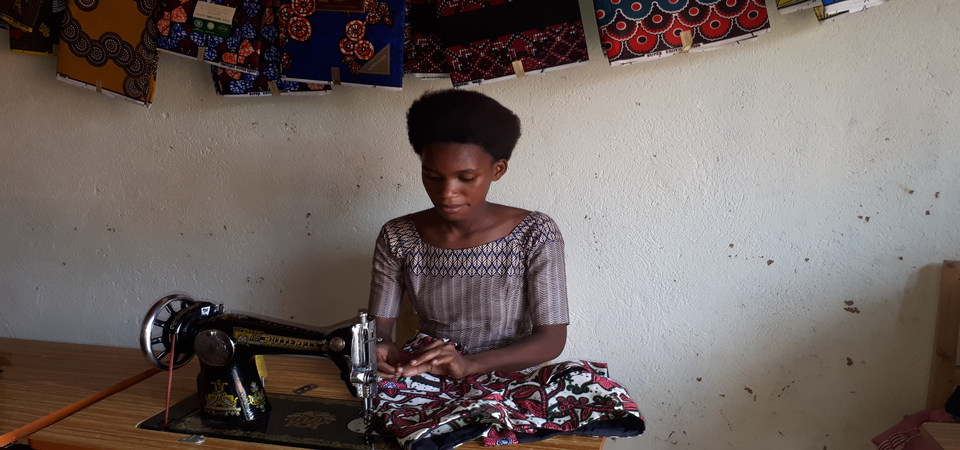 When Germaine joined the project, she together with other beneficiaries were given several sexual reproductive health training modules covering topics like body changes, period cycle and safer sex practices. Although she made a mistake, she does not want other young girls to make the same choices that she made. She shares her knowledge with other young people in her community who are not beneficiaries of the USAID ACHIEVE DREAMS project. SHIMWA is among the 1429 teen mums and among the 14,455 AGYW that are supported by the ACHIEVE DREAMS project.
She is grateful that the USAID ACHIEVE DREAMS project is equipping young girls with knowledge that they need to make informed decisions about their lives.
As a member of the Icyerekezo group, they have also received training on technical and vocational education particularly tailoring to help them support themselves and their families. With the tailoring and the machine she received from the project, she mends clothes and she gets minimum ten thousand Rwandan francs per a month. Today, she is a proud mother of a 2 year old baby boy and with the income she gets from tailoring ; she is able to support her baby.
"Although I was not able to complete school and my life took a different direction, I am grateful that I now have the skills and knowledge to cater for myself and my child. When my boy grows up, I will equip him with the knowledge on sexual reproductive health so that he does not make uninformed decisions."
Since July 2020, the USAID DREAMS/ACHIEVE project is being implemented by Young Women's Christian Association of Rwanda (YWCA Rwanda) in partnership with Pact Rwanda. It is a two-year USAID-funded global project that aims to reach and sustain HIV epidemic control among pregnant and breastfeeding women, adolescents, infants, and children and it is serving 14,455 beneficiaries in 10 sectors of Kicukiro district locally known as ACHIEVE Program.