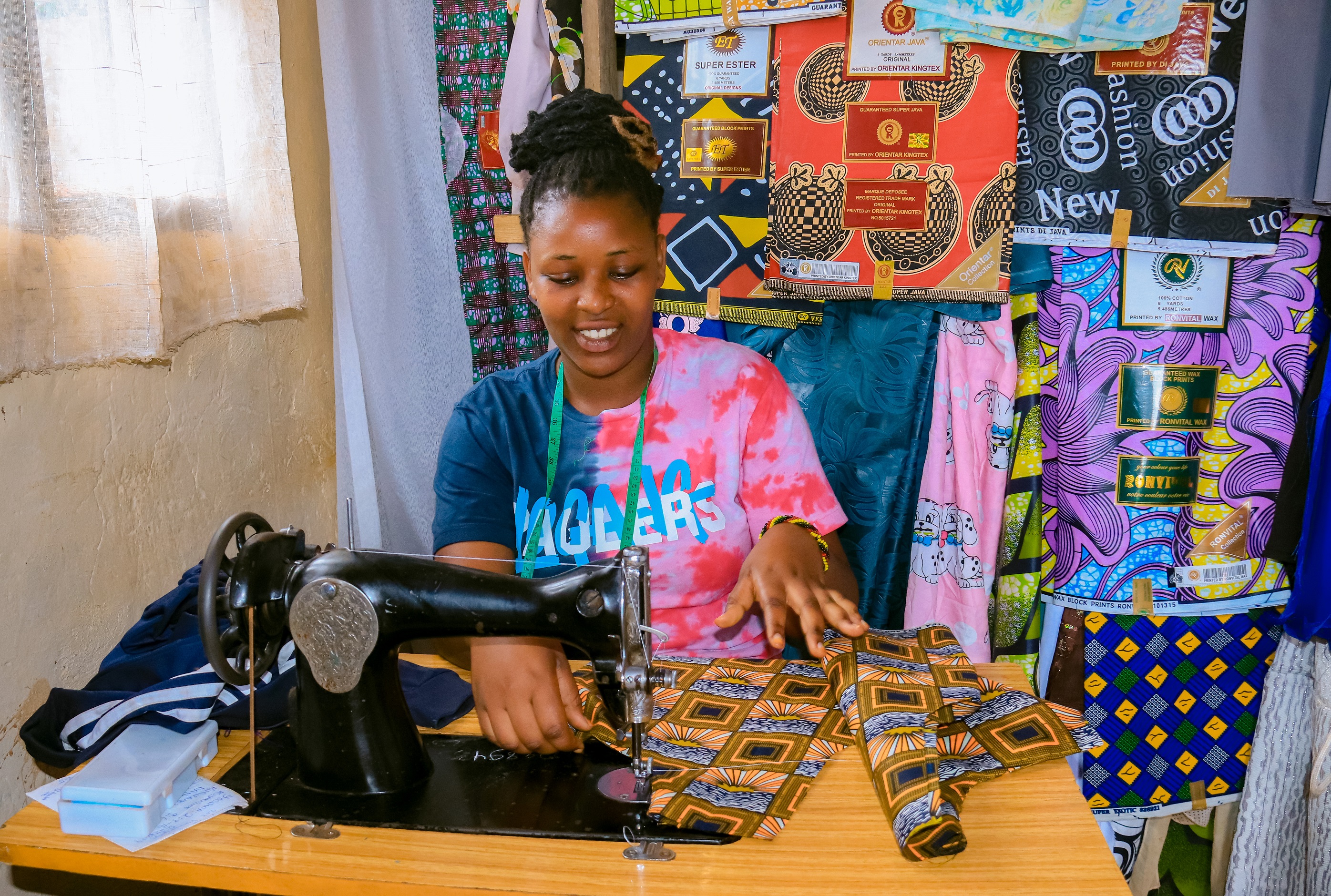 From a housemaid to a professional tailor
MUKESHIMANA Rachel is a young woman of 22 years old with one child, she lives in the NYARUGUNGA sector, KAMASHASHI cell in the KICUKIRO district. Rachel was born in a poor household in a rural area of Rwanda.
At the age of 15 years, Rachel dropped out of school and decided to move to Kigali to look for greener pastures. After a short while, Rachel got a job as a house-help for three years and at the age of 18 years, Rachel got pregnant.
Consequently, she was fired from her job and asked to leave her employer's house. Rachel moved on to rent a small and began to hunt for part-time casual jobs to keep her and their unborn baby alive.
In 2021, YWCA Rwanda started to implement the Enhancing the livelihood for vulnerable young women in MUHANGA and KICUKIRO Districts, seeking to reduce the vulnerabilities of 500 teen mums, female sex workers and other vulnerable women through the delivery of an economic empowerment model.
As a teen mother, Rachel was selected by Peer Educators of the project and she says that her life was forever transformed.
"I didn't love myself and had never imagined a brighter future neither for me nor for my child as even my child' father didn't embrace him. But after joining the saving groups I meet other teen mothers and we exchanged testimonies about our past and I realized that I was not alone." She said
Rachel joined Integrated Saving & Lending Groups (ISLG), and as ISLG mandates, they learned DREAMS drawing (a component of GALS methodology) from there she set her own vision and she started to make saving for it.
She was also enrolled among beneficiaries who were supported to study TVET and she studied tailoring which was her dream as she said.
From her savings, as Rachel says, she brought her own sewing machine and now she is self-employed, able to cover her expenses, including rent, food, her child's school fees, and taxes.
Rachel is one of the 512 beneficiaries who are being supported by Enhancing the livelihood for vulnerable young women in KICUKIRO and MUHANGA a project implemented by YWCA Rwanda I in partnership with UN Women.
Rachel says that she is really grateful to UN Women and YWCA for their support and for helping her envisage a better future, as one of her current aspirations is to create her own tailor shop (Attelier) in the next 5 years.