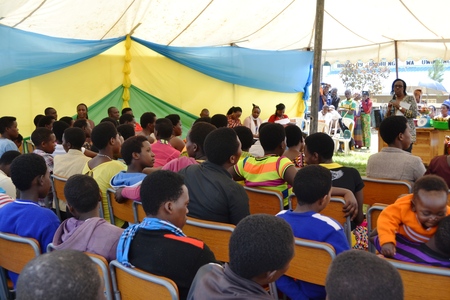 YWCA, CARE AND GMO CONDUCT A JOINT LEARNING FIELD VISIT TO THE EDOAG PROJECT IN HUYE AND NYAMAGABE DISTRICTS
Teen pregnancy is one of the most difficult experiences any young woman can go through. The stress of pregnancy, revelation of pregnancy to parents, and moving on despite the shame and worry can be nerve-racking. Indeed, teenage pregnancy is never easy. It is first and foremost a threat to girls and a breach of their fundamental human rights to education, health, life opportunities and indeed to life itself.
In Rwanda, the 2014/2015 Demographic and Health survey showed that teenage pregnancy rates in Rwanda increased from 6.1 per cent in 2010 to 7.3 per cent in 2015. This is a red flag, which calls for urgent action to address the problem. There is need for concerted efforts from all stakeholders, including civil society organizations, government, parents, school administrators, grassroots leaders, religious leaders, as well as the general public to end the problem of teenage pregnancies.
Since 2016, Young Women's Christian Association of Rwanda (YWCA), a women-centered civil society organization has been partnering with CARE international Rwanda to raise the flame against teen pregnancy and fight against Gender Based Violence through the Enterprise Development for Out of School Adolescent Girls, a project that is supporting 7,037 girls from Huye and Nyamagabe Districts of whom 724 (10 .2%) are out of school teen mothers via Voluntary Saving and Loan groups. Through this project, the beneficiaries benefit from different pro-poor strategies that support women and adolescent girls by addressing the barriers they face in accessing and controlling assets, resources, and services. Both organizations work hand in hand with government institutions in a bid to support the existing initiatives that aim at alleviating Gender Based Violence and teen pregnancy in Rwanda.
It is against that background that a joint field visit between YWCA, CARE International Rwanda and Gender Monitoring Office (GMO) was organized in Huye and Nyamagabe Districts from September 21st - 22nd 2017. The overall objective of the visit was to learn from YWCA and CARE's initiatives that target adolescent girls in addressing teen pregnancy, GBV and girls' empowerment and suggest more areas of improvement to meet the needs of teen mothers. During the visit, 72 beneficiaries were visited in Huye and 117 in Nyamagabe.
During the visit, beneficiaries got an opportunity to bear witness of changes that the project has brought in their lives. Speaking at the event, the Chief Gender Monitor lauded the project's initiatives and how it integrates socio-economically teen mothers through coaching them on business skills and grouping them into Voluntary Saving and Loan groups :
"We are glad to hear that you have overcome the challenges derived from the situation you went through as teen mothers. Your testimonies really proved to us that your lives have been improved and that you are eager to go far,'' said the Chief Gender Monitor.


She emphasized on the value that girls have even after giving birth and that their right of citizenship remains valuable no matter what they have gone through. She urged the out of school beneficiaries to go back to school and keep on managing businesses that they are currently running. The way the visit was organized and its outcome were also appreciated by other participants including the YWCA Executive Director, OVC programs Manager and EDOAG Project Manager from CARE.